Complimentary Gift(s) With Every Order
Sitewide 40% Christmas Sale!
Spend Over £40 For Free Shipping
FLAWLESS KIT
SPOT CLARIFYING - MICRO CHANNEL PATCH KIT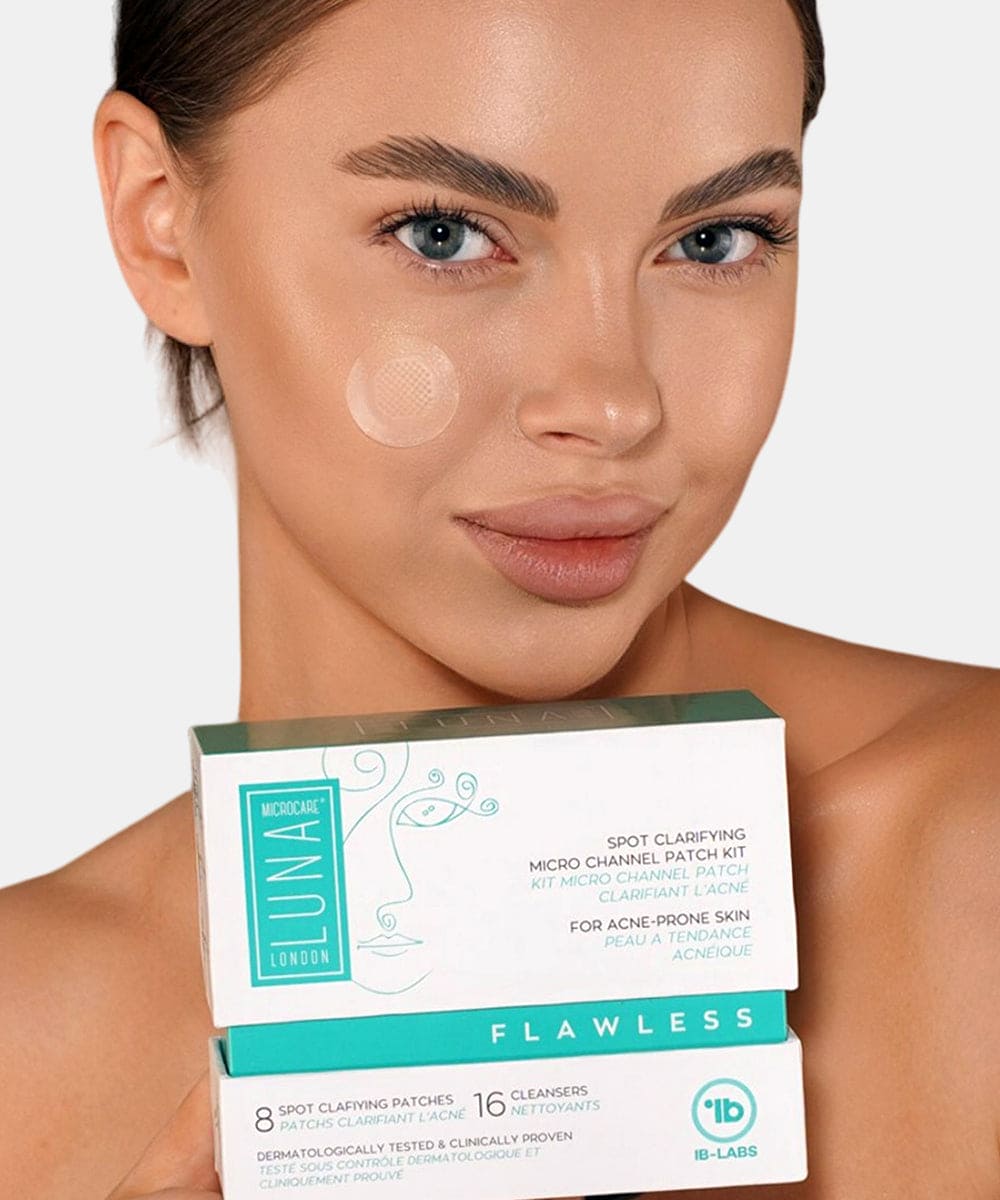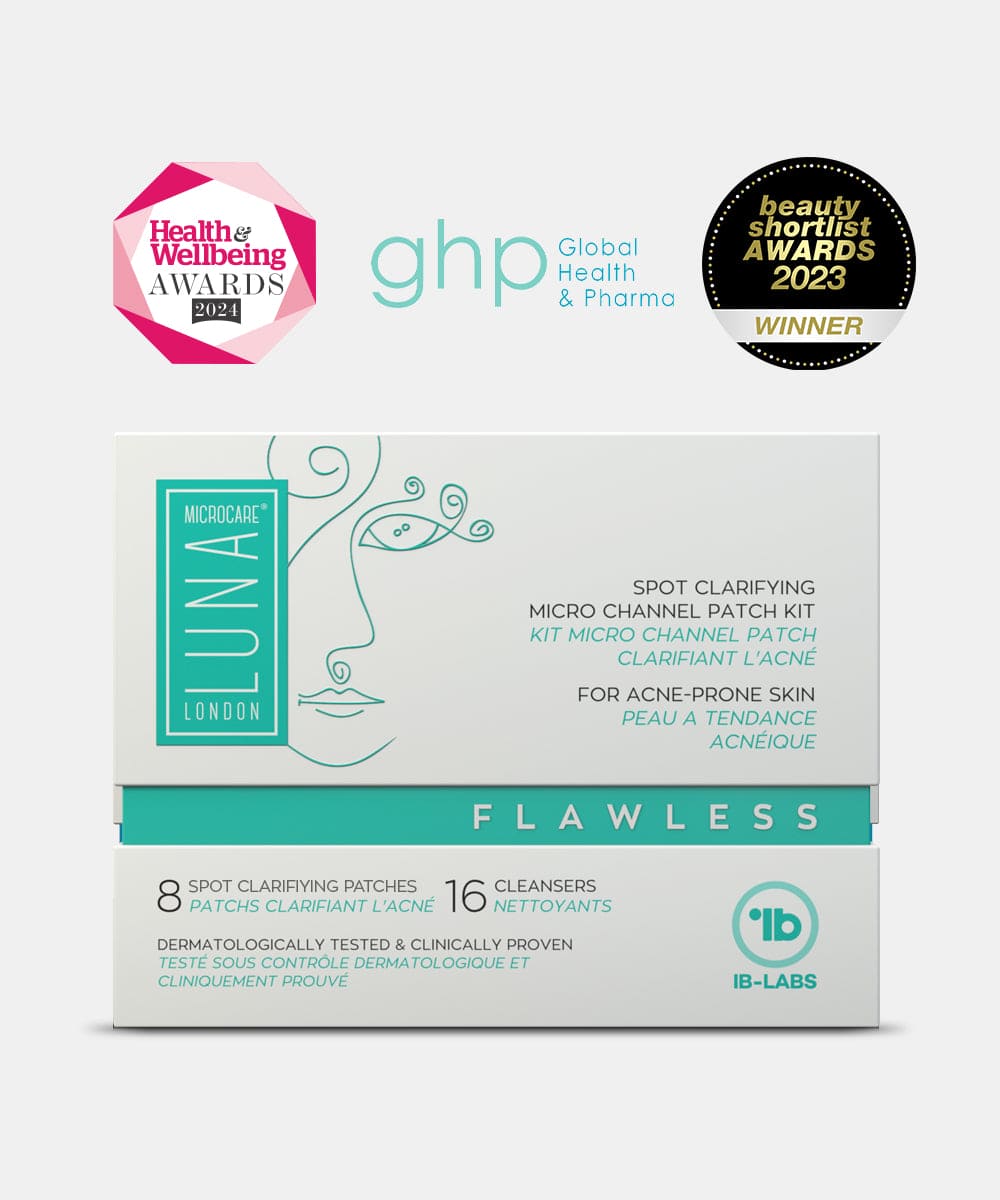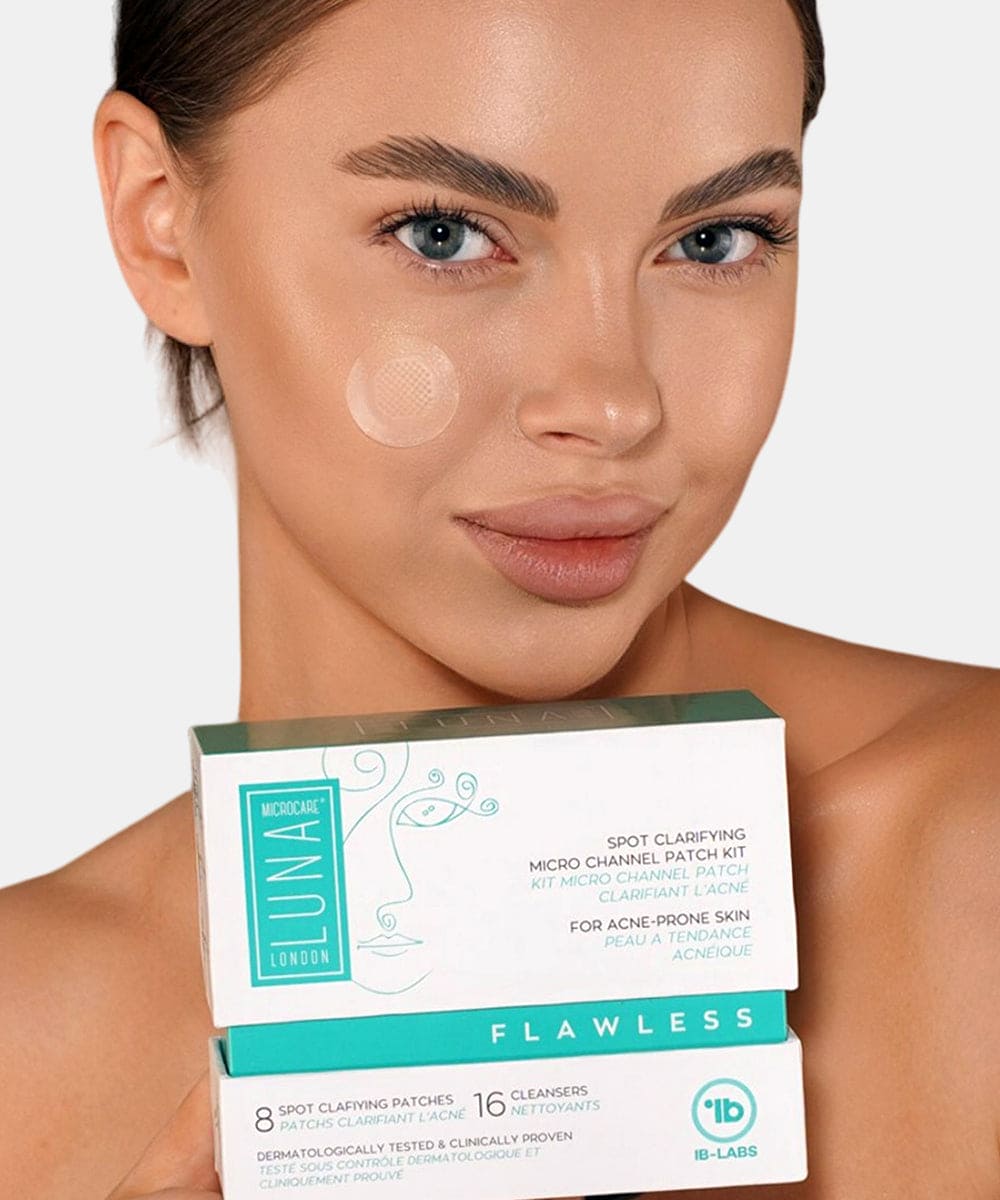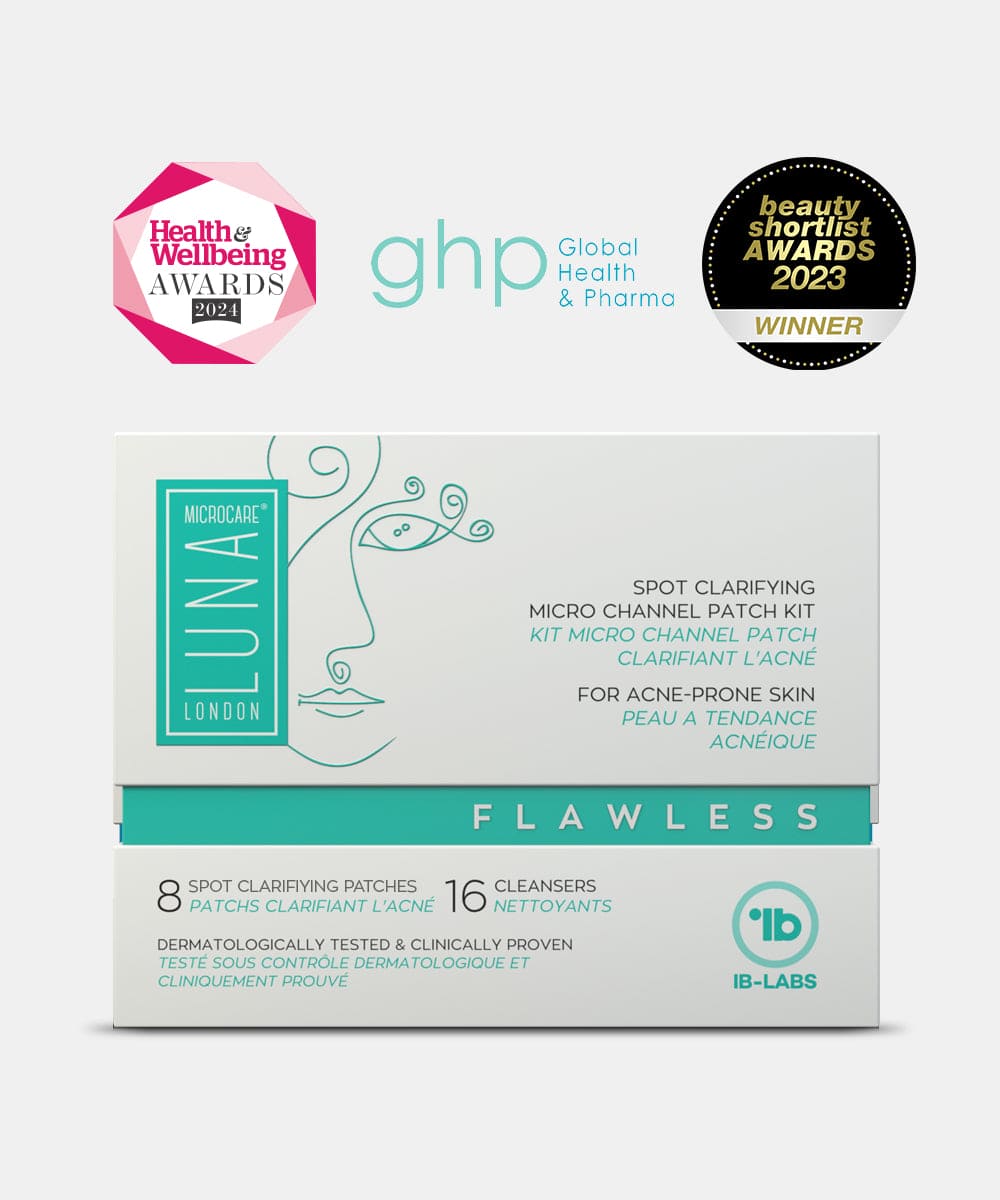 FLAWLESS KIT
SPOT CLARIFYING - MICRO CHANNEL PATCH KIT
Patch kit for the deep, early-stage spot
An innovative solution for acne-prone skin. An active complex of scientifically proven ingredients is delivered via self-dissolving micro-cones. It works from the inside-out to fight spots leaving the skin clear, smooth, and hydrated.
... read more read less

Each patch kit also contains 16 CLEANSER swabs soaked in exfoliating, de-stressing ingredients to prime the acne-prone area prior to application.
🎯 Clinically proven results
🎯 Precision technology
🎯 Powerfull spot clarifying ingredients
🎯 Ingredients hit your targeted area in 2 hours
🎯 Sharper, longer, more stable micro-cones when compared with lookalike patches
8 Spot Clarifiying Patches
Hyaluronic Acid, Ascorbyl Glucoside (Vitamin C + Glucose), Oligopeptide-76, Oligopeptide-10, Retinyl Palmitate, Helianthus Annuus Seed Oil, Bakuchiol, Lupeol, Tocopherol (Vitamin E), Acetyl Dipeptide-3 Aminohexanoate
---
16 Cleaning Swabs
Alcohol, Water, Melaleuca Alternifolia Leaf Oil, Salicylic Acid, Tocopheryl Acetate (Vitamin E)
Open only when ready to use. For the best results apply overnight, twice a week.

Clean the targeted site with CLEANSER - cleaning swab and allow the area to dry for 30 seconds.

Open the pouch with clean and dry hands, take out the patch from the translucent container.

Take care not to touch the microstructures in the middle of the patch and remove the white protective film.

Position the patch on the target area without sliding it around on your skin. Press gently with your fingers several times to attach it.

Apply your usual skincare routine to areas surrounding the patch.

Remove after 2 hours minimum or leave on overnight. Gently peel off.

Take care not to crumple the patch when leaving on overnight.

Designed
in the UK
%100
Vegan
Cruelty
Free
Clean
Beauty
Sustainably Sourced
Ingredients
Carbon Balancing
Paper
CLEAN & HIGH QUALITY
KEY INGREDIENTS
Luna Microcare is formulated with sustainably sourced, high-potency botanicals and bio-engineered clean actives, where possible, to reduce environmental impact.
Salicylic Acid
A powerful yet soothing beta hydroxy acid derived from willow bark. Delivers essential keratolytic benefits: reduces redness, addresses imperfections, and boosts clarity.
Hyaluronic Acid
A naturally-occurring polysaccharide present in the skin, binds to water molecules, ensuring a dewy, glowing complexion. It's phenomenal at capturing and retaining moisture, leading to plump, hydrated, and rejuvenated skin.
Vitamin A (Retinyl Palmitate)
A multitasking vitamin. Improves regeneration, supports moisture retention visibly reduces fine lines, has a normalizing effect on skin pigmentation, and helps to improve skin's barrier function.
Vitamin E (Tocopheryl Acetate)
A powerful, restorative skin conditioner. Effectively supports barrier function to optimize hydration levels while protecting the complexion from environmental aggressors.
Vitamin C (Ascorbyl Glucoside)
A potent, antioxidant-packed boost for the skin. Proven to stimulate the production of collagen for firmer, more resilient skin, while brightening and defending against stress caused by environmental aggressors.
Lupeol
It protects the collagen and elastin from getting damaged. It aids in renewing the outer layer of the skin and stimulating the production of more elastin and collagen. Thus, the skin looks younger, healthier, and more radiant.
Melaleuca AlternifoliaLeaf Oil (Tea Tree Oil)
Helps reduce inflammation and triggers the activity of white blood cells that are instrumental in the healing process.
Oligopeptide-76
A powerful peptide containing 1 amino acid with hugely acne-averse and antimicrobial activity. it binds spontaneously to a membrane surface, causing different degrees of perturbations in the growth of bacteria.
Bakutrol
Inhibits the growth of bacteria and inflammatory pathways. Promoting cell turnover and healthy cell regeneration, helping soothe and heal the skin from the inside out.
Oligopeptide-10
It binds to the surface of bacteria, preventing them from colonising and living on the skin. Enhances the skin's natural defence system resulting in a significant reduction in the appearance of blemishes and red, blotchy spots.
Acetyl Dipeptide-3 Aminohexanoate
It acts as a reinforcement of the skin's natural defence system and improves the overall appearance of acne-prone skin.
Key Benefits
Reduces redness and calms signs of inflammation.
Regulates sebum secretion for a balanced, glowing complexion.
Intensely hydrates, soothes, and restores stressed skin.
Provides immediate and long-lasting skin relief and nourishment.
Protects against moisture loss and damage from environmental aggressors.
Visible Results
98% agree redness and irritation are visibly calmed.
94% agree Flawless is more effective than previously used products.
98% agree skin feels calm and soothed after use.
100% agree skin feels nourished and replenished.
100% agree the product is gentle enough to use every day.
CLINICAL STUDY RESULTS*
Significant improvements for the individuals with acne-prone skin in sebum reduction, redness and inflammation.
Sebum
Reduces sebum production
Redness
Visibly reduces redness
Inflammation
Visibly reduces inflammation.
Trial Parameters
*In a 4-week Clinical Trial of 10 adolescents and 10 adults
MEET THE DERMS
MEET THE DERMS
"This advanced, easy-to-use, 2 steps skin-transforming system reveals skin that looks smoother and clear"
DR. DENIZ KANLIADA
(Safety in Beauty Diamond Award Winner 2019 - 2021 - 2022)
FREQUENTLY ASKED QUESTIONS
Acne vulgaris is the common form of acne, characterised by a mixed eruption of inflammatory and non-inflammatory skin lesions. You may prefer to call acne 'pimples', 'spots', or 'zits'. It is a chronic, relapsing inflammatory disease of the pilosebaceous unit. This unique skin compartment consists of the hair shaft, the hair follicle, the sebaceous gland and the erector pili muscle.
Four main factors are currently accepted to contribute to acne development, namely increased sebum production, follicular hyperkeratinization, the proliferation of skin bacteria and/or disruption to the balance of C.acnes phylotypes in the skin microbiota and the release of inflammatory mediators into the skin. Overall, the loss of skin microbial diversity combined with activation of innate immunity is thought to be a crucial factor stimulating chronic inflammatory conditions.
LUNA MICROCARE FLAWLESS was designed to help individuals who have got acne-prone skin. It is specially designed to target all main factors of acne development using unique and proven anti-acne ingredients, including antioxidants, bioactive peptides, and extracts with anti-acne properties.
LUNA MICROCARE FLAWLESS microstructures consist of hyaluronic acid (a skin moisturisation agent), ascorbic acid 2-glucoside (vitamin C), oligopeptide-76, oligopeptide-10, vitamin A palmitate, bakuchiol, lupeol (crataeva nurvula extract), acetyl dipeptide-3 aminohexanoate. Most of the ingredients of LUNA MICROCARE FLAWLESS are manufactured in the EU by leading manufacturers. The swap consists of alcohol, water, melaleuca alternifolia leaf oil (tea tree oil), salicylic acid, and tocopheryl acetate (vitamin E).
LUNA MICROCARE FLAWLESS targets the main pathogenic pathways in acne pathogenesis to improve the appearance of skin conditions. It could provide synergistic effects to improve the efficacy of other treatments and provide a good patient adherence-maintenance phase of acne management and a high level of patient satisfaction. Its patented delivery system (Hyaluronic acid dissolving microneedles) ensures that all anti-acne ingredients are delivered to the source of the problem.
LUNA MICROCARE FLAWLESS is safe and gentle for frequent use. We recommend using LUNA MICROCARE FLAWLESS twice a week. Depending on age, skin type and condition, most users notice a difference after the first treatment. The effects are cumulative and optimal results are achieved within 4 weeks with regular use.